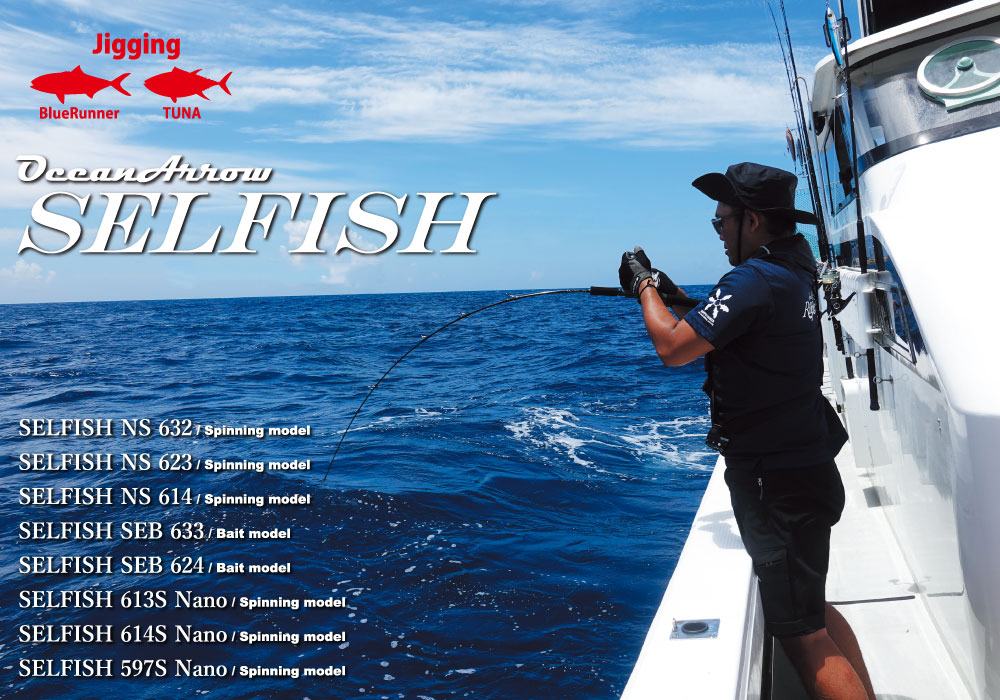 Ripplefisher's jigging rod series, the "Selfish" will be renewed as of 2020.
There will be 3 spinning models and 2 bait-casting models, each developed with their own new concepts.
The already existing 613S, 614S and 597S models are for the vertical jigging game and the 3 new models will specialize in a natural swimming (NS) diagonal jigging.
The 2 new bait models are categorized as sensitive bait (SEB) models.
These added models are developed to keep up with the demands from the ever changing jigging scene.
To slide the jig, swim the jig, naturally maneuver the jig to induce that "bite".
All models have the inherited the characteristics of the Selfish series with the slim, light and sharp feeling able to cut through the current, yet possessing a contradicting powerful butt section.

The NS (natural swim) type
- NS632, NS623, NS614
A series especially designed to naturally maneuver the jig by eliminating any unnecessary flicking and jumping of the jig. The versatile multi purpose models are able to induce bites in selective situations, various sea conditions and areas.

The SEB (natural swim) type
- SEB633, SEB624
These are highly responsive bait models able to easily maneuver jigs simply or technically with various jerking methods. Anglers will be able to easily vary the tempo and speed of jerks capitalizing on the advantages of the bait tackle set up.

The S (standard&specialized) type
- 613S, 614S, 597S
This is a model able to easily control the jigs and quickly switch your jerking patterns from high pitch, one pitch, short to long jerks mainly from boats which are controlled for vertical jigging. It is a highly sensitive model able to transmit the slightest of change even at high speed jerks.